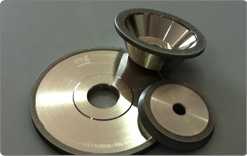 Electroplated Diamond & CBN Grinding Wheels
Ideal for carbide tools grinding, forming, ferrite core grinding & re-sharpening.
Indication of diamond & CBN grinding wheels
SD
Abrasives
150
Grit Size
N
Grade
75
Concentration
R
Bond
3.0
Rim thickness
D : Natural diamond
#60
J
Soft
25
RB: Resin bond
1.0mm
SD : Synthetic diamond
#80
L
50
MB: Metal bond
1.5mm
SDC : Synthetic metal
#100
N
75
P: Electroplated
2.0mm
coating diamond
#150
P
100
VB: Vitrified Bond
3.0mm
B : Cubic boron nitride
#200
R
Hard
125
5.0mm
(CBN)
#270
150
10.0mm
BC : CBN with metal
#325
coating
#400
#600
Method of Choosing Diamond & CBN Grinding Wheels:
* Diamond Grinding Wheels
Tungsten carbide, presintered carbide metal tools & construction units.
Oxide ceramic materials.
Ferrite, ceramic magnetic materials.
Refractory products.
Stones, gem & semi-precious stones, shell.
Glass, porcelain, quartz.
Graphite, carbon.
Tiles, asbestos, asphalt, concrete.
Plastics, F.R.P.
Wear resistant coatings.
* CBN Grinding Wheels
High alloy steels.
High speed tool steels.
Hot & cold working steels.
Tempering steels, Spring steels.
Ball bearing steels.
Cast iron.
* Special size can be customized on request.
Other Products